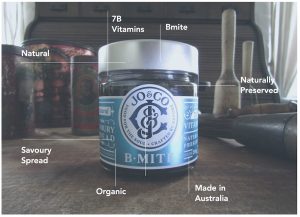 Introducing a delicious new natural B-vitamin savoury spread from JO & CO FOODS… B-mite!
Delicious spread on toast, in a cheese sandwich, with crackers and avocado, or for a flavour hit to your favourite savoury dishes or sauces. The perfect vegemite alternative.
BMITE is a powerhouse of naturally occurring B-vitamins, minerals, antioxidants, omega-3, amino acids and peptides, providing you with instant energy and mental alertness. These help to provide you with immune system, digestive system, and cardiovascular support.
Contains mainly certified organic ingredients, ensuring nutritional quality while also supporting and protecting your gut microbiome.
BMITE uses saccharomyces cerevisiae, far superior to brewer's yeast. This B-Complex superfood has huge health benefits and consistent taste. This yeast can be eaten by Candida suffers and may even assist in alleviating symptoms.
BMITE's moreish taste is completely natural, despite having the same familiar strong, umami flavour profile. The only sweetener is an incredibly small amount of pure, organic A-grade maple syrup (0.7g per serving).
Ingredients: Sesame Seeds, Tamari, Nutritional Yeast Flakes, Coconut Cream, Maple Syrup, Garlic, Herbs and Spices (Essential Oils).