Produce Packaged With Biodegradable Packaging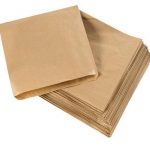 We pack most hardier produce loose in the box. And for more delicate items needing extra protection, we'll either use recyclable brown paper bags or 100% biodegradable plastic bags.
Our delivery boxes are also made of cardboard with an insulated liner to keep your produce fresh until you unload it.