We Use 100% Biodegradable Packaging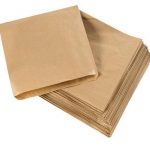 We pack most hardier produce loose in the box. And for more delicate items needing extra protection, we'll either use recyclable brown paper bags or 100% biodegradable plastic bags. If you would prefer minimal plastic packaging in your order, you can specify this by writing "please minimise plastic packaging" in your packing instructions here.
We Use Recycled Styrofoam Eskies
We secondhand used styrofoam boxes from our wholesalers. We then clean and re-use these boxes around 50 times until they are no longer clean enough for use. The boxes are then compressed and recycled into compacted bricks for use either as a cheap housing material in Asia, or recycled into new plastic products. So in shopping with us, you are not supporting increased styrofoam production, but supporting recycling of secondhand boxes.