Bauers Organic Farm
Mount Sylvia - Lockyer Valley, QLD
Organic Certifier: ACO #4151A
Produce: Potatoes, garlic, jap pumpkins, carrots, corn, celery, broccoli.
The Bauer's family have farmed the land of Mount Sylvia in the Lockyer Valley for over 130 years now and have fed many thousands with their quality organic produce. Rob and Anthony Bauer grow using organic and biodynamic principles and say their secret is super-fertile soil, top quality water, sunshine and generations of knowledge. About half the farm is devoted to organic cropping, with the remainder of the 'hilly' treed country and creek areas providing habitat for wildlife and good organic-farm-critters. The farm has been registered as a Land For Wildlife Property for many years and the Bauer's family helped pioneer the Landcare Movement in Australia.
---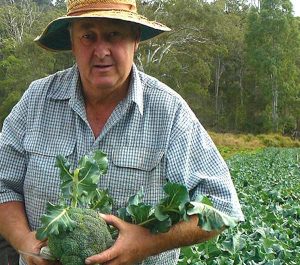 Fordsdale Organic Farms
Grantham - Lockyer Valley, QLD
Organic Certifier: ACO #10121A
Produce: Kale, silverbeet, cauliflower, cabbage, pumpkin.
Over the past decade, local grower John Sutton has been on a mission to transform his farm. Commencing in 2003 the farm became pesticide free, and then went on to become fully ACO certified in 2005. Today sees Fordsdale Organic Farm an abundance of nutrient rich, dense fertile soils producing crops that not only taste sensational but are full of the minerals and vitamins we all need.
---
McMahon Bros Organics
Stanthorpe - Southern Downs, QLD
Organic Certifier: ACO #4552A
Produce: Wide variety of Apples, Strawberries, Pears.
One of our organic apple farmers located near Stanthorpe, McMahon Bros Organics, is doing it right. The McMahon's have been farming since the 1920's and have been fully organic for over a decade. Their orchard is located in prime apple growing territory, being 1000 metres above sea level with temperatures that drop to -4 degrees. Where conventional apple farmers tend to harvest, gas and store their fruit for up to 12 months, at the McMahon's orchards they visit the trees up to four times a week - picking only the ripe fruit each time. This allows the sugars in the apples to develop fully - giving a much better flavour and making them nutrient rich.
---
John Cutts
Duranbah - Northern NSW
Organic Certifier: OGA #11102A
Produce: Pumpkins, citrus, dandelion, kale, potatoes.
Since 1996, John Cutts has been running his thriving market garden in Duranbah, near Murwillumbah in northern NSW. Growing a wide and exotic range of traditional varieties of fruits and vegetables. John has a true love for growing quality produce, and was one of the farmers who was cranking out the kale way before it was cool! John's classic old Landcruiser delivering us fresh produce is always a happy sight. John's instagram is well worth a look.
---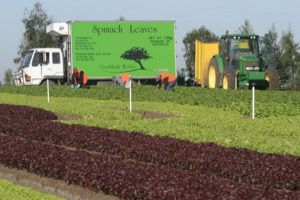 Coolibah Herbs
Pearcedale - Victoria
Organic Certifier: ACO #10974
Produce: Salad greens, baby spinach, rocket, herbs.
Started in the early 1980's by Michael and Jenny Bogicevic in Pearcedale on Victoria's Mornington Peninsula, Coolibah Herbs has expanded from a 45 acre farm to Australias leading grower of premium quality salad greens and culinary herbs. Their commitment to a quality product sets a high standard.